Landscape Design & Installation
Sacramento Landscaping Beyond Imagination
We integrate landscape design and construction to develop complete environments that fulfill the client's dreams, without compromising the details of proper care.
The planning and design of any project is an exciting endeavor for us at Hoover Horticultural Sacramento. As landscape designers, we work closely with our clients on a personal basis to provide design solutions in an artistic manner, in response to their specific needs and lifestyles.
Landscaping in the Sacramento area, and the many micro climates that exist in this area, presents a unique set of opportunities; Our skilled team of designers blend innovative thinking with comprehensive experience to address the potential and challenges of Sacramento's beautiful climate.
EXPERTS IN TREE AND LANDSCAPE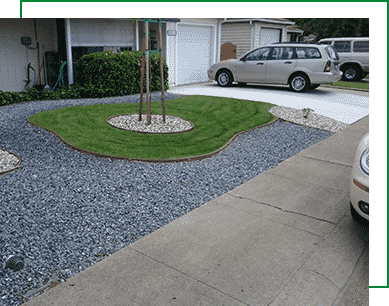 Landscape Design & Installation
Welcome to Hoover Horticulture Landscapes! We're master craftsmen of high-quality landscapes, and we're ones to call when you want attention to detail and quality in construction.
We're also your one-stop-shop for all of your landscaping and plant health care needs.
We take care of all of the details of your landscape project—from design, to pulling permits, to organizing crews, hiring and managing subcontractors, and putting on all of the finishing touches.
You can rest assured you're hiring one of the region's top five landscape architecture firms in the Sacramento area.
Sprinkler Installation & Repair Services in Sacramento
Proper watering of your valuable landscape investment is crucial for optimum health and vigor of both trees, shrubs and lawn areas. A new system needs to be properly designed in order to be cost effective as well as efficient. Repairs need to be kept in check in order that valuable water is not wasted and so that plants continue to thrive. For expert assistance for all your irrigation and sprinkler needs please give us a call.
After a long winters nap, we can assist you with getting you irrigation system up and running while at the same time reviewing for needed sprinkler repairs. Our crews excel in their expertise of all irrigation systems making your sprinkler system startup a painless process and should repairs be required, are able to provide up front, fair and competitive pricing.
EXPERTS IN TREE AND LANDSCAPE
Sacramento's Fountains, Ponds & Water Features Experts
Hoover Horticulture Landscapes installs a wide variety of custom fountains, ponds and waterfalls for homes throughout the Denver area. Water features add tranquility, beauty and value to outdoor living spaces. Transform your Sacramento home into an urban oasis with a custom water feature.
Water features are more than an aesthetic addition to landscapes. Well-maintained water features have many great benefits.
Hoover Horticulture Landscape design and construction team will carefully craft a water feature to fit your lifestyle and outdoor living space. Contact us today for a more peaceful tomorrow.
Sacramento's Hardscapes Experts
Patios, steps and walkways create a backyard space that brings the indoors outside. Let Hoover Horticulture Landscape customize your outdoor environment with top-quality design and construction.
Patios are the foundation of any outdoor room. There are countless designs and building materials to build a one-of-a-kind patio that meets your entertaining needs.
Walkways and steps have practical purposes, such as leading you, your family and guests from one point of your property to the next.
Moreover, walkways and steps are designed to give your outdoor rooms dimension and depth. For example, adding steps to a retaining wall to take you to the second tier of your backyard is practical as well as beautiful if you use flagstones or stamped concrete.
Plus, you create movement and visual interest when we design your walkways with curves around flowerbeds and other landscape features.
At Hoover Horticulture Landscape, we want our work to satisfy your exterior needs and dreams. Plus, we want your guests to say "Wow" every time they visit your home.
Sacramento's Expert Tree Service &
Landscape Company Get a Free Estimate