Landscape Design Sacramento
SACRAMENTO LANDSCAPE DESIGN & INSTALLATION
SACRAMENTO LANDSCAPING BEYOND IMAGINATION
Who doesn't enjoy spending time in nature? Likewise, you can transform your landscape into a place worth spending time on by employing the best company holding years of expertise in landscape design in Sacramento. Imagine waking up to a view of your landscape that has beautiful flowers, unique pebbles, and lush green grass. So if you want this, you are just one call away from building the landscape of your dreams.
We, at Hoover Horticulture, have been providing landscape design and installation services for so long. Whether you want to build a vegetation area or a relaxing and nice-looking lawn area, we are experts in turning your mind's creativity into a reality.
We won't let any small part get overlooked in the matters of detailing and care needs. As an expert Sacramento landscape design company, we take every project with great commitment.
EXPERTS IN TREE AND LANDSCAPE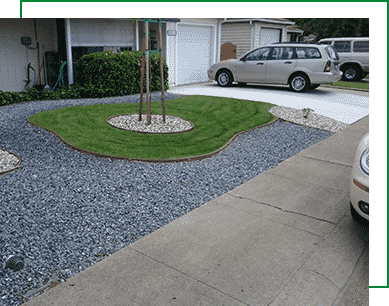 Landscape Design & Installation
At Hoover Horticulture, we are here to get the job done with utmost perfection. We know what it takes to create an incredibly beautiful and quality Sacramento landscape design without missing out on any detail.
Apart from serving landscape design and installation needs, we also offer plant and tree services in Sacramento. In order to maintain the health and vigor of the landscape, it's important to pay heed to its maintenance and care.
Our team will cover everything, from preparing a design plan to examining land conditions based on the climate to providing cost estimates and assuring the installation process is executing as per the decided plan.
So, you can rest assured you're hiring one of the region's top five landscape design Sacramento firms.
Sprinkler Installation & Repair Services in Sacramento
We can customize your sprinkle system in such a manner that will keep all factors like sun, shelter, or plant species in consideration. Having a sprinkler system that fits the needs of successful and efficient irrigation will be cost-effective for you in the long run.
Moreover, in order to keep your plant's growth healthy and secure, you need to have a system that will not let the water get wasted or overused. Call us today for installing the sprinkler system that is specially designed to provide an irrigation advantage. Automatic sprinkler systems make for
After a long winter's nap, we can assist you with getting your irrigation system up and running while at the same time reviewing for needed sprinkler repairs. The team employed at Hoover Horticulture has extensive experience and proficiency in implementing all sorts of irrigation systems.
EXPERTS IN TREE AND LANDSCAPE
Sacramento's Fountains, Ponds & Water Features Experts
Our team of landscape design experts Installs a comprehensive range of captivating and functional accessories that make a landscape area a feast for the eyes. Everything from adding water features, ponds, fountains, waterfalls to installing lighting, we can turn your landscape area into a serene place where you can be most peaceful and calm.
As water feature is one of the essential parts of visual appeal, we also custom design the water features that work efficiently too.
Our team who specializes in landscape installation and landscape design in Sacramento will carefully design a water feature to compliments your outdoor space. Contact us today for a more peaceful tomorrow.
Sacramento's Hardscapes Experts
Hardscaping can be a great way to compliment your landscape design Sacramento plan. Amidst the beauty of the flowers, plants, and shrubs, a well-designed hardscape adds style and elegance to your outdoor space. One of the best advantages of installing a hardscape is that it makes your indoor area seem more expanded. We add high-quality patios and walkways to your landscape and also customize the hardscape as per your wants and desires.
An outdoor living area may seem incomplete if it didn't have a patio or walkway on it. Moreover, a patio or walkway is crucial to guide you, guests, and family to another spot of your outdoor space. Adding steps to a retaining wall to take you to the second tier of your backyard is practical. It is also beautiful if you use flagstones or stamped concrete.
LANDSCAPE DESIGN
SACRAMENTO
COMPANY GET A FREE ESTIMATE